Release (and launch) day!
Carina Press is officially open for business! Which means Exclusively Yours is officially for sale!
I have a blog post on eHQN titled How the eHarlequin community changed my life if you want to give it a read. I got a little weepy writing it.
I have a guest post at RR@H Novel Thoughts today. Go join in the comments and you could win a copy of Exclusively Yours or a download from my backlist!
Make sure you check out Pearl's World of Romance because she has an awesome week planned!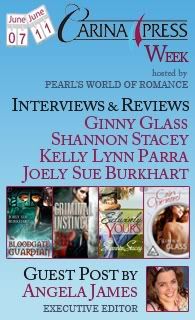 And just in case you haven't already run off to get your copy of Exclusively Yours, here are a few snippets from early reviews! (As always, I hope you'll click the link to read the entire reviews!)
Sarah from Smart Bitches, Trashy Books:
This book made me happy. That's probably the best way to put it: it made me smile. A lot. Books like this are why I read romance.
Lori from I Just Finished Reading…:
This is a strong, family-oriented book, full of laughter, heartbreak, fun, romance, and love. As much as I adore Shannon Stacey's Devlin Group (and when do we get Jack's book, hmmmm?), I think her true strength lies in contemporaries, and revealing people that a reader can completely relate to. Strongly recommended.
Natasha from My Disorganized Ramblings:
Who do I recommend to? If you have a love of contemporaries, if you have a love of reunited lovers, if you love meddling families, and photo happy nephews, I definitely recommend!
Katie from Make of it what you will:
I really enjoyed this story, and would recommend it to anyone looking for a good contemporary romance and/or one with older protagonists.

Final thought: A smart story of rediscovering what it means to love someone.
And in her article on summer reading, Smart Bitch Sarah said:
Stacey's writing is sharp and sexy and this second-chance story is perfectly hilarious — and there's ATVs, mud, bug-spray and s'mores. Really. There's nothing more romantic than s'mores. I enjoyed this book so much if it were printed on paper I'd hit people with it until they read it.